I know, I know, we promised video diaries and I can honestly assure you that they ARE in the pipeline. Rory managed to avoid the lure of the magic beans and got us a FlashCam. A very becoming pink one. So I can guarantee you, these near mythical video tour diaries are on their way. Alas, in the meantime you'll have to make do with my nonsensical ramblings, and for this, we apologise...
...Last time we got as far Newcastle if I remember correctly, the Head Of Steam. We had a blast,
here's a link
to a review, just to prove I'm not lying...
Next up we had a day off, in the Steel City, Sheffield. Our good friends Oisin and Glynn put us up and let us get a much needed clothes wash on ("ROCK n' ROLL" I hear you shout in glorious unison).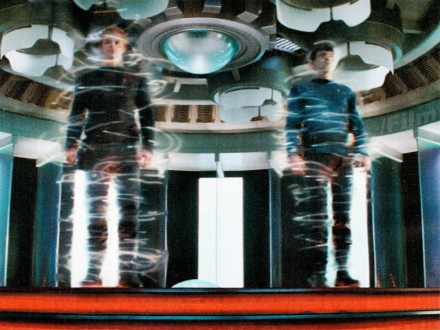 Being a total sci-fi geek, I persuaded Rory, Johnny and Chris to accompany me to see the new Star Trek movie. I managed this by telling them they had ripped off our song/phrase..."Set Guitars to Kill". Good shit.
The gig the next night in Sheffield SU was great. Great line-up, great crowd, great times. Although we did feel bad for the excellent
worriedaboutsatan
having to cut their set so short due to technical problems. I implore you to check out their electronic madness.
Leeds was the next destination and a return to Royal Park Cellars. We'd played here a few times previously and always enjoyed it. We started the set with me literally swinging from the rafters and powered our way through a hectic set, the audience were fuckin' great. The only thing that marred this gig was the bar manager kicking us out into the diabolically pissing rain outside to load the van and risk our amps getting fucking wrecked. We appreciate he was only doing his job, but there was absolutely no need for him to adopt a mock "Oirish" accent, and not even a good one! I soon set the prick straight. He really needs to practice his impersonation skills if he's ever gonna truly offend people.
The Great Escape festival in Brighton was the next port of call (excuse the terrible, terrible, awful, disgraceful pun).
Maybeshewill
's chief percussion ace Jim joined us for the jaunt. We registered at some fancy dan hotel, and bumped into our good buddy Chris Wareing from Liverpool Barfly, what a treat. We then dumped the gear at the venue then wandered up to the food tent to, well, eat. Obviously. Then we hooked up with our good friends, Panama Kings, albeit briefly as Rory and I had to race back for a RockSoundTV interview. Don't think its online yet but we'll let you know as soon as it is so you can have a good laugh at our expense.
We made some new friends in an awesome band from Devon called
The Computers
, you really have to check these guys out they are fucking amazing. After our set, which was one of our tour highlights, we linked up with our mates Ruth and Lynn from home and went to catch the end of
Panama Kings
set, which was lethal. Niall Panama introduced us to an awesome character, Pockets, who used to live with one Mr. John Mellor, aka Joe Strummer. FUCK!
The night descended into sambuca feulled debauchery, culminating in Rory having a dance off with one of the guys from Computers, who was in pole position to walk/dance off with the crown, that was until Friers pulled out the secret weapon of the table parade dancing. I managed after a good bit of negotiations with the affable if slighty pissed off door staff to give him a reprieve and not throw his jiving ass to the street. How? I have no idea. However, no matter how much pleading I did, my begging fell on deaf ears when he got back up to tread the tables for the third time in 15 minutes. As our good friend John Helps would say, Fail.
The next gig took place in the geographically absurd (in relation to the previous nights' shows), Lincoln. A nice small intimate venue, with an absolutely nuts crowd. Good times were had in Lincoln. Even if we all felt like hell due to the previous nights excesses.
Nottingham Rock City was the newest venue to get an ASIWYFA debut, I had been here once before years ago whilst stage managing ( Stage managing : elaborate term for "roadie" ) two American metal bands on a European tour. I saw things on that night that shall never leave me. I chose to tell the audience these, they sounded as disgusted as I felt having witnessed said events. Great show though! Plus we randomly bumped into Panama Kings, they seemed as disturbed as us by the goings on in Brighton previously.
Afterwards we got blocked in by some idiot in a Punto, there was a big red tour bus out there too that belonged to Stratavarious, or something like that anyway. We got the cool as fuck German drum tech to help us bump the car outta the way, until the burly door staff warned us against it. Way to kill the buzz!
Next a return to Derby, where we were greeted by smiles, free cake, and an eighties jukebox selection that was so scratched it leapt from early, to mid, to late eighties with a frequency only comparable to Doc Browns time travelling DeLorean.
Maybeshewill played an absolute stormer of a show that pumped us up to go and tear the place a new one. Yay. Good times.
Kilburn in London tomorrow, and with it, a video tour diary. Ye Gads!
Over and trout.
Tony
ASIWYFA